A friend of mine recommended me to try the Fried Hor Fun at New Yew Sang Kelana Jaya, I went there one late afternoon but unfortunately the Fried Hor Fun was closed. I have no intention to drive away because I knew there was another famous stall here, the Ipoh Steamed Pot Rice.
The lady boss seems very friendly, but I'm too shy to chat with her about the history of her business. It was so late and most of the items already sold out, I only have limited choices to select from.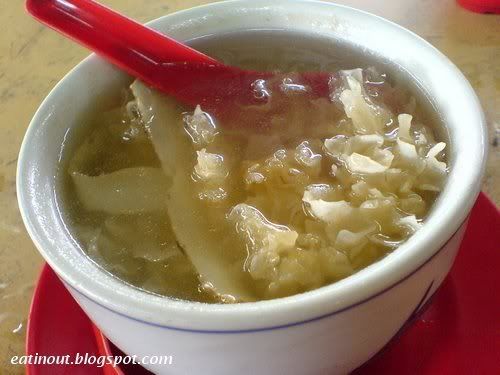 Salted Fish Pork + Snow Fungus (白木耳) Soup only RM 7.50
What a scrumptious pot rice, till the bottom of the pot, rice has fully absorbed the sauce of the dish, I think this salted fish pork should be less famous choice because it's still available at late afternoon, so I will definitely come back again for their most famous dish. I don't really like snow fungus, but this is really a hearty soup, very well prepared just like mom's homemade.
Very reasonable price and hearty meals, what can I ask for more?
Other reviews:
masak-masak
KY speaks
(refer KY speaks for map)
Restoran New Yew Sang Seafood
18, Jalan SS6/8
Kelana Jaya