Maybe this is not a good time to post about BKT (since the
beta-agonist
news still hot), but it does not affect pork lover like me at all, I'm still eating it.
Ah Sang Bak Kut Teh is located at Sungei Way (thanks
Carlson
who let me know about this place), which surrounding by electronic factory like Motorola, National, Western Digital etc., so normally this restaurant will pack during lunch hour by those factories' employees.
3 important factors of a good BKT (in my lame opinion), can be derived directly from its name: Bak (肉) - meat, Kut (骨) - bones and Teh (茶) - soup/tea, Ah Sang doesn't outstanding in either one of these, but it has successfully maintain a fair quality of these 3 elements, I guess that's the reason it's still deserves to be claimed as one of the good BKTs.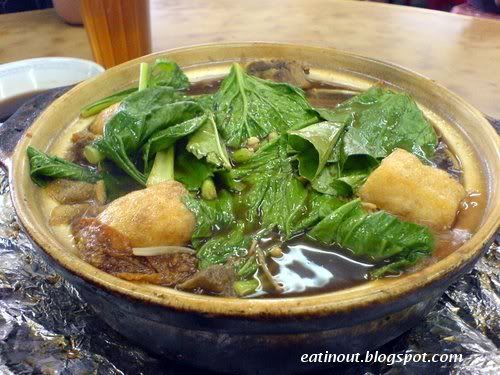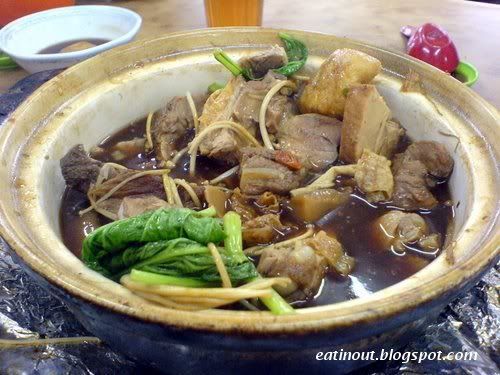 Usually I will order a mix bowl, which contains part from thin to fat... but personally I'm more favor the fat parts :p, like leg, tail... I know it's not healthy at all, but when soft fat meat "melt" in my mouth, and follow by a scoop of thick herbal soup, that's what I call "heaven", although eating pork can never go to heaven according to some religious definitions :-|
At Ah Sang, you can either take the plain rice or the oily rice, if you really feel like want to upgrade your bowl of BKT, they have abalone, I saw few cans in the shop, but not sure anyone order that before or not.
Uploaded a map, Ah Sang BKT should be quite easy to locate, Indian Temple is the landmark.
Other reviews:
^julie the biscuit^
KY eats
Life of A Food Lover
Ah Sang Bak Kut Teh
No.531, Jalan SS9A/12, Seri Setia
Sungei Way, 47300 Petaling Jaya